Rob Hopkins sprak tweemaal op het symposium van de Transitie Conferentie in Deventer afgelopen vrijdag 30 oktober. De dag was met meer dan 200 bezoekers en 16 bevlogen voordrachten een geweldig succes, waarover binnenkort meer op deze site. Rob Hopkins stelde humor, verbeelding en visie tegenover de grote uitdagingen van onze tijd en meent dat boven alles een  'geëngageerd optimisme' ons door de komende decennia heen zal helpen.
Via zijn blog transitionculture.org ondersteunt Rob Hopkins vele honderden TT-initiatieven wereldwijd met praktisch advies en persoonlijk commentaar  op actualiteiten en ontwikkelingen rondom de transitiebeweging. Op 3 oktober publiceerde hij een blog over zijn recente reis door België en Nederland, waarvan we hieronder het tweede deel tonen, over zijn ervaring in Nederland.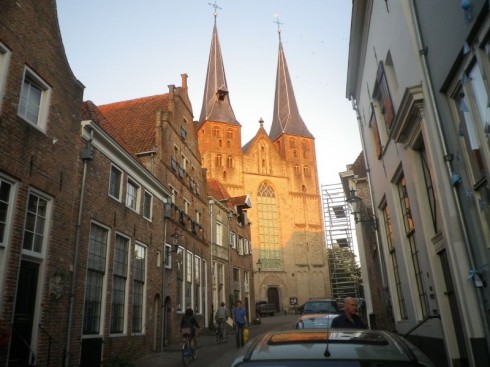 'A whistle-stop tour of Belgium and the Netherlands'
…The next day started with a mad and exhilarating ride on the back of a motorbike through the Brussels rush hour traffic to the station for the train to Holland.  In Rotterdam I was joined on the train by Jan, who runs the publisher who produced the Dutch version of the Transition Handbook.  He got me to Utrecht, where we got off the train and did an interview with a journalist from a voluntary simplicity-themed magazine, before we got back on the train and on to Deventer.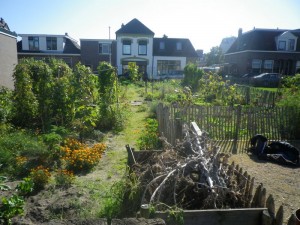 Deventer is one of the most established Transition initiatives in the Netherlands, as well as being a very beautiful town.  The project has done many things, including a very successful community solar project that has led to over 80 households installing solar panels, and several community gardens throughout the town.
When we arrived, we went to see a community garden which they had helped to establish.  A group of local people decided they wanted to turn a local park into a food garden, and asked the Transition group for some training and support.  The garden is now used by 25 families, including many Turkish families who grow plants they use more in their cooking, such as aubergine and paprika.  They had also planted an area of fruit trees and shrubs.
'The first day was packed with talks'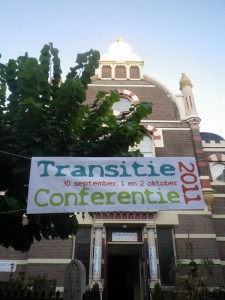 While we were there we also did an interview with a reporter from one of the country's leading papers, before heading off again to the venue.  'Transitie Conferentie 2011' was a national gathering of Transition folks from across the country.  The first day was packed with talks, and the second comprising more of workshops.  The venue was a beautiful old synagogue, and at least 200 people were attending the event.  The presentations were all in Dutch, and so went rather over my head, although it was nice to see Fransje de Waard, a Dutch permaculture teacher I last met in 1995, still going strong doing permaculture stuff.
There was a very powerful and moving video talk by Awraham Soetendorp, an elderly rabbi (which Dick very kindly translated for me), about the power of doing Transition and rediscovering community, which I am trying to encourage the producers to give English subtitles as it was very moving.  I then gave the first of two talks, focussing particularly on stories of how Transition initiatives in the UK are working with their local councils.  After my talk, Paul Hendriksen and I signed a symbolic large version of the Memorandum of Understanding between Transition Netherlands and Transition Network (see right) to much applause.
'delicious meal in the unseasonally warm early evening sun'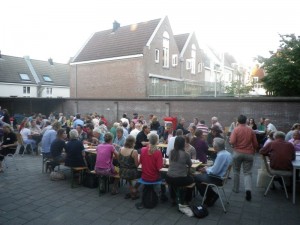 At 5.30pm there was a big and rather delicious meal for everyone, sitting out in the back yard in the unseasonally warm early evening sun.  After that I went for a walk around Deventer.  It is a town rich with old buildings, big public squares, bars, trees, and with people sitting out, drinking and chatting.  At 7.30 the evening session began, featuring 4 speakers.  The first, Jan Juffermans, talked about ecological footprinting and its value as a tool.  The second, Peter Polder of ASPO Netherlands, gave a crash course in peak oil and how we can tell that it is near.  Then Anna Schoemakers talked about the work she is involved in, working with a range of organisations supporting them in responding to climate change.
I gave an introduction, as I had done in Brussels, to the concept of the 'ingredients of Transition' and ran through what they are and how they work, illustrating the talk with lots of stories of what projects are doing.  After my talk, the four of us did a panel-type thing, taking questions and thoughts from the audience.  I did an interview with a woman who is launching a national radio station called 'Transition Town Radio'.  People stayed around for a long time afterwards chatting and asking questions, and I eventually got off to bed by about 12.
'It was a fascinating trip'
It is so interesting to meet Transition folks from different places, and to see how they are translating Transition into their place, to their culture.  How Dutch Transition is different from Belgian Transition, which is different from English, Welsh or Brazilian Transition.  I started each talk by making it clear that I hadn't come to tell anyone how to do Transition, but rather to learn about how they are doing it.  This, for me, is one of the beauties of Transition, the way in which it is open source enough for people to be able to make it their own, yet clearly-defined enough that people can ensure that it is distinctly Transition.
My huge gratitude to everyone who made this breakneck trip possible, especially Amber, Paul, Jan, Fabien and my hosts in Deventer whose names I can't remember!  Thanks all.